INTEGRATING INTELLIGENT VENTING WITH AUTOMATIC DIPPING AND FLUSHING
Welcome to stress-free milking for you and your cows.
Introducing ADF InVent, the 6th generation of the ADF MILKING system, that now brings you the ultimate in cow comfort and unrivalled precision.
Building upon the proven results of our automated dipping and flushing technology, ADF InVent now raises the bar further with the integration of intelligent teat-by-teat liner venting – in a lightweight, reliable cluster.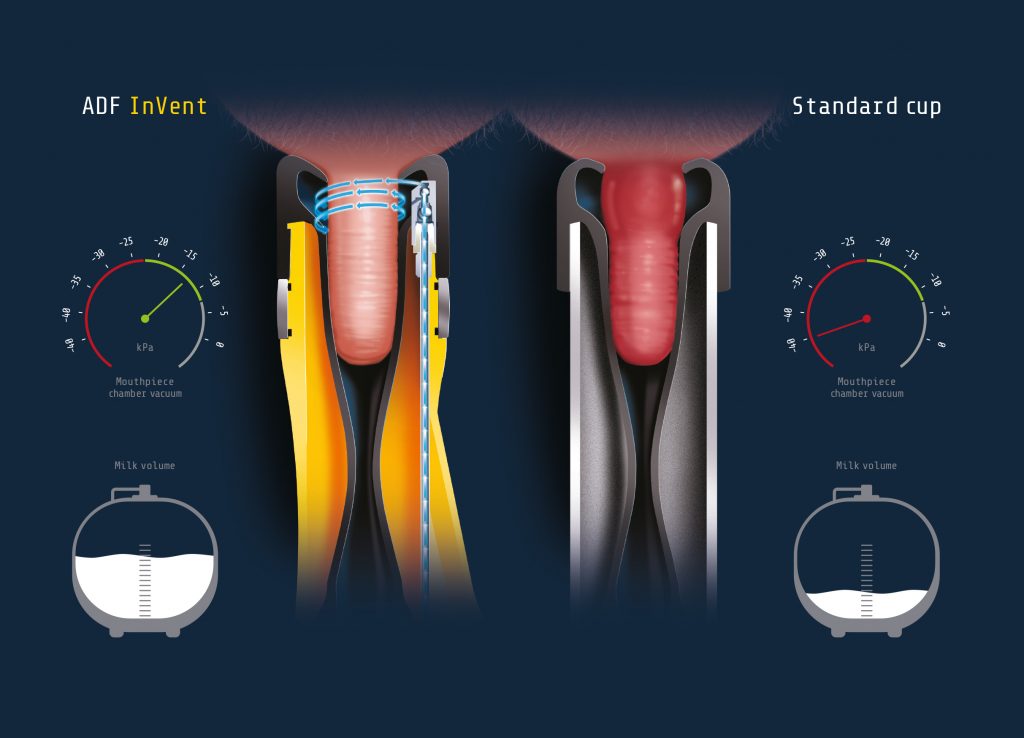 With the ADF Milking InVent system dairy farmers can improve cow health, enjoy stress-free milking and improve milking parlour efficiency.
5 ESSENTIAL STEPS
Liners are vented, teats are dipped and clusters are flushed at the right time, every time. Enjoy the benefits of InVent Automatic Dipping and Flushing from ADF Milking.
THE START OF THE MILKING PROCESS
Sanitised liners presented in correct orientation, ready for milking.
INVENT STARTS MONITORING THE VACUUM
Continuously monitors and controls vacuum levels on each individual teat.
DIP IS APPLIED TO THE TEAT
As the vacuum is shut off, teat dip is injected into a manifold on the clawpiece. Dip is applied to the teat at the optimum angle.
TEAT DIPPED AND PROTECTED
Teat is dipped and protected within seconds of milking being completed before exposure to harmful contagions in the environment.
CLEANING PROCESS COMMENCES
After removal every liner is sanitised and thoroughly rinsed six times ready for the next cow.